"Very strong and deeply felt"
Paula Harper art critic & contributing writer Art In America 2011

The History
BATTLE PORTRAITS: Wounded Lions Wounded Lambs?
A four year (2007-2012) project comprised of over 30 works on paper and 20 canvases culminating in a series of 12 canvases ranging from 6ft. to 10ft. in height depicting the internal struggles of Service Members and Veterans of the Iraq Afghanistan wars suffering from Post Traumatic Stress Disorder, Traumatic Brain Injury, and related challenges.
The work is documented in book format. 10% of all books profits are donated to art therapy for the troops. The exhibit has just finished a 12 month tour of major exhibit venues throughout Colorado.

See more images by clicking the Image Gallery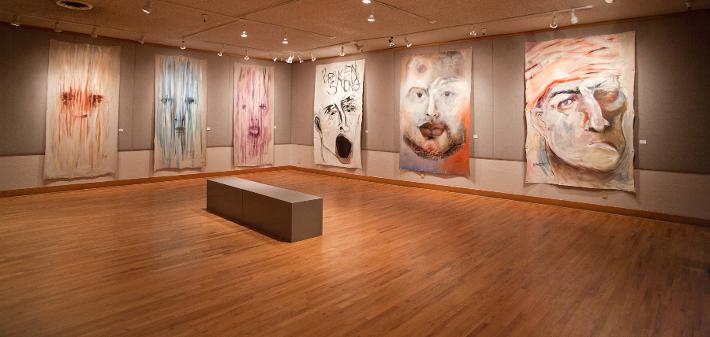 Artist's Story &

BATTLE PORTRAITS Wounded Lions Wounded Lambs
Painter Laura BenAmots was born in New York bust spent her formative years in Israel. Childhood in Israel was rich and fun and adventurous, and it meant growing up in a country at war.
In Israel war affects every family regardless of socio-economic or political status. Military and civilian life intersept and dramatically impact each other. BenAmots grew up attuned to the challenges relating to the effects of war on civilian society.

In 2007 when the artist learned of the high suicide and violent crime rate among returning U.S. veterans from the wars in Iraq and Afghanistan, she was deeply moved and compelled to respond.

At first she drew. Then she painted.

By 2009 the vision for the Battle Portrait project was evolving as she worked to build a body of paintings and drawings that gave "voice" to the struggles of young men & women re-entering civilian life. In 2010 she began meeting with soldiers in in-patient and out-patient treatment for trauma and hearing their stories. By the end of 2011 the artwork was fully realized as a compelling and dramatic series of paintings and drawings documenting the stories as oversized, expressively abstracted portraits.

In 2012 the work was premiered in a one-person Preview Exhibition along with the national release of the book about the project by the Art Book Publishing Project @ the BAC (Business of Art Center, Manitous Springs CO).

The exhibit has just completed a 12 month tour of exhibit venues in Colorado (2012-2013).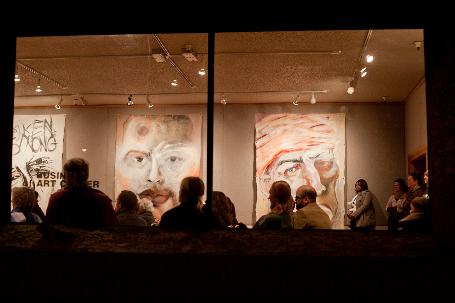 What is
WAR BRIDES and how does it relate to
BATTLE PORTRAITS?
WAR BRIDES is an emerging new series by BenAmots dedicated to examining the changing relationship between women and war in the United States. It is comprised of mixed media installations.

In early 2013, the work was previewed along side the Battle Portraits in a one-person exhibit at the Sangre De Cristo Art Center in Pueblo, Colorado.

Three major series are emerging within the WAR BRIDES: Bridal Portraits includes veiled ink portraits; Bridal Veils are layered etherial 10ft. paintings on cheese cloth; War Brides are "collaged" broken faces assembled of charcoal, graphite, guache and mixed media on torn pieces BFK paper pinned to the wall.

The works vary is texture and medium but share a reference to the bridal veil and reference the complex face of the woman warrior hidden beneath the veil.

See more images by clicking the Image Gallery

Special Thanks to WAR BRIDES sponsor Barbara Gold and Special Thanks To Battle Portrait Supporters & Sponsors: Pikes Peak Community College, Pikes Peak Community College Foundation, Pikes Peak Art Council, Pikes Peak Community Fund, Walt Palmer Photography, Colorado College, Colorado Springs Fine Art Center, Snappy Print, and the Manitou Springs Business of Art Center. A percentage of the BATTLE PORTRAITS Wounded Lions Wounded Lambs book profits are donated to Art Therapy for returning military and veterans in treatment for PTSD and/or TBI. The Book is available through Amazon or for purchase information contact: ludel@thebac.org
Click link to view ART REVIEWS & GREAT PHOTOS