Of her work she says: "the disparate experiences of my life shape my art as I search for belonging and solitude. " Of her life she says: "there is no arrival, only moments of clarity."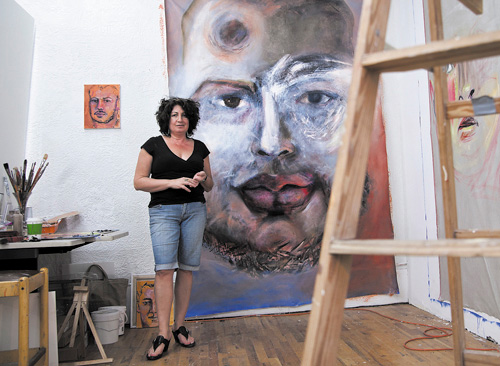 BIO
New York born painter, Laura BenAmots, spent her formative years in Israel when her family sailed from the NY harbor to Haifa in the last cross Atlantic trip of the Greek ocean liner, the Queen Anna Maria.
Ms. BenAmots now resides in Colorado with her two sons where she paints and serves as Assistant Professor of Art & Gallery Director at PPCC (Pikes Peak Community College). She is committed to Art & the Community.

LINKS:
roughrubyartscollective.com
http://www.museumstuff.com/learn/topics/Laura_BenAmots

https://www.facebook.com/LauraBenAmotsArtist/
http://ppcc.edu/departments/art/meet-the-faculty/
CAREER
BenAmots' professional training: Pennsylvania Academy of Fine Art in Philadelphia,; BFA Tyler College of Art & Design at Temple University; MFA University of the Arts in Philadelphia.
Awarded 2012 Visual Artist of the Year for the Pikes Peak Region by the Pikes Peak Arts Council

Recent exhibit highlights include: WHITE gallery at the Sangre de Cristo Art Center, Pueblo CO (2013 One-person exhibit WAR BRIDES & BATTLE PORTRAITS); CSFine Art Center Museum (2011-12 Battle Portrait teaser exhibit); Frost Art Museum at FIU in Miami FL (2011 Guest Artist - Art Performance live painting); International Artist Exchange Festival at the Pikes Peak Performing Art Center in COS CO (2010 featured artist - mainstage liver performance painting).

Recent Grant Awards: PPAC Visual Artist of the Year; Pikes Peak Arts Council - multiple micro-grants and major project grant through the Pikes Peak Community Fund; Pikes Peak Community College Innovation Grant Award for excellence in the field of Art.
In 2008 Eros On Canvas the erotic paintings of Laura BenAmots was co-published by Last Gasp Press and Smokemuse Press. It has earned praise and attention in the international art and erotica arenas.